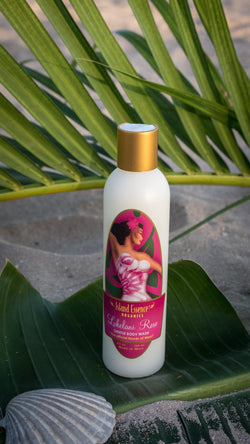 Lokelani Rose Vintage Premium Body Wash
The Body Wash: Vintage Lokelani Rose Premium Body Wash celebrates the golden era of Hawaii and the exotically scented Lokelani Rose. Natural ingredients and locally sourced essential oils combined with Lokelani Rose will leave your skin clean, moisturized and exotically fragrant. Very limited supply--only 3 left in stock!

The Fragrance: Exotic, complex, intense, rich, and floral.
The Story: Maui recognizes the super-fragrant Lokelani (the pink Damask rose) as the official island flower. This rose is a native of Asia Minor. It was brought to the New World by the Spanish and introduced to Hawai'i in the early 1800's.
Ingredient Spotlight: Papaya nourishes and rejuvenates skin with Vitamin A and Papain enzymes
Ingredients:  Organic Aloe Vera, Island Essence Proprietary Emollient Concentrate, Extracts of Organic Sage, Organic Rosemary, Papaya, Chamomile and Sea Kelp, Jojoba Oil, Lavender Oil, Sunflower Oil, Vitamins A, B5, C & E, Fragrance Oil