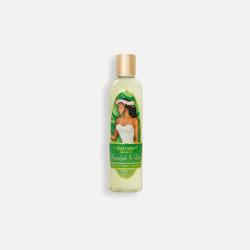 Passionfruit & Lime Vintage Premium Shampoo--Last Chance
The Shampoo:  Limited supply!  Stock up now.
The Fragrance: Fresh, sweet, tart, intensely exotic, tropical citrus, fruity aroma.
The Story:  The yellow passionfruit or lilikoi vine tends to be more vigorous and generally larger than the purple passionfruit. While the purple appears to grow better at higher elevations, 400 to 3,000 feet, the yellow fruit is best adapted to lower elevations, from sea level to 1,500 feet.  Some call Lilikoi Hawaii's favorite flavor: The sweet-tart fruity combination is gorgeous in syrups, cheesecakes, sauces, marinades—and of course, plucked straight off the vine!