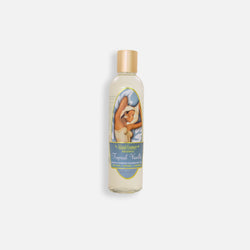 Tropical Vanilla Vintage Premium Shampoo--Last Chance
The Fragrance: Warm, sensual, sweet with calming and uplifting effects.
The Story: Vanilla comes from a Vanilla Orchid , is a vine-like plant that grows up trees within 10-20 degrees of the equator. This is the world's second most expensive spice and grows primarily in Central America and Tahiti. The Hawaiian Vanilla Company on the Big Island of Hawaii is the first commercial grower in the United States.