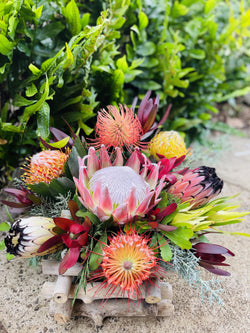 Maui Sunrise--Maui's Finest Flowers
The Flowers:  Our Maui Sunrise arrangement is created with the FINEST protea grown on the slopes of Haleakala, magnificent colors, fascinating textures makes these beautiful blooms breathtaking. We have designed this arrangement in a vessel that is handmade on Maui, with natural driftwood collected from the shores of the island. This arrangement overtime will dry and can be kept for years to come in a natural vessel that may also be repurposed. The Maui Sunrise is a gift of love that keeps on giving--and is one of our best sellers because of its long lasting beauty.
The Floral Designer:  Maui's Finest Flowers is a top florist here on Maui. Over the years, they have fallen in love with the power of how the colors, beauty, and the MAGIC of flowers can make people happy! Maui's Finest Flowers takes pride in their purpose of changing the world one flower at a time.
**Flowers are seasonal and it may require substitutions that are of equal value.
Your Message:  Please look for the note section on checkout and include a personalized message for the lucky recipient of this stunning arrangement.  It is really important to put in the note section if you need your flowers to arrive by a certain date.

Non-floral Orders:  If you would like to make a floral order, please order only flowers with the order.  Any other Island Essence products need to be made on a separate order entirely, as the flowers are shipped directly from our florist.  Ignore shopping cart specials that are offered on checkout too.  Mahalo for understanding.
The Shipping:  Fedex shipping is included for all Maui's Finest Flowers arrangements.   Customers must provide a physical address and phone number, as it will only be delivered by FedEx. Incorrect addresses will not be the fault of the florist.
Flowers are shipped out Monday and Tuesday via Fedex 2 day delivery service. West Coast orders can sometimes be shipped as late as Wednesday, but the orders have to be made before Wednesday so the florist can make up the flowers in time for Fedex collection on Wednesday morning.

Discounts:  We work with an amazing, talented floral artist, so please understand that Island Essence promotional codes cannot be applied to flower orders. 
The Terms: 
* Since fresh flowers will be shipped, all sales are final.