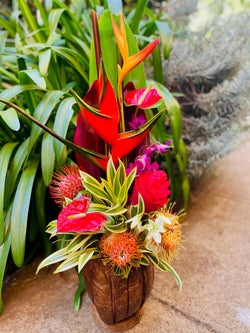 Coco Hawaii--created by Maui's Finest Flowers
The Flowers:  Our Coco Hawaii Arrangement includes brilliant tropicals and exotic proteas that are Grown in Hawaii. It is featured in a hand made, locally sourced coconut vessel that offers the perfect Hawaiian feel. It may be repurposed and used as a reminder of the Magic of Aloha from Hawaii.
The Floral Designer:  Maui's Finest Flowers is a top florist here on Maui. Over the years, they have fallen in love with the power of how the colors, beauty, and the MAGIC of flowers can make people happy! Maui's Finest Flowers takes pride in their purpose of changing the world one flower at a time.
**Flowers are seasonal and it may require substitutions that are of equal value.
Your Message: On checkout, please leave a message in the note box for the lucky recipient of these beautiful flowers.
The Shipping: 
 SHIPPING INCLUDED - Customers must provide a physical address and phone number, as it will only be delivered by FedEx. Incorrect addresses will not be the fault of the florist.  All arrangements are shipped only on Mondays and Tuesdays.  West Coast orders can be shipped as late as Wednesday.

* Since fresh flowers will be shipped, all sales are final.
Mother's Day 2023:  Please order Mother's Day flowers by May 8th.  Our local floral artist only has so much time and so many flowers to meet the demand for Mother's Day flowers.  So please get your orders in as early as possible--first come first serve.  There may be a time when she has to say no to new orders.