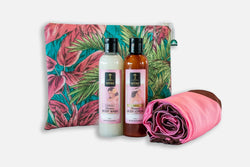 Vintage Plumeria & Sarong Oneloa Gift Bag
The Gift Bag:  Treat yourself or someone you love to this beautiful large pink oneloa bag with pink sarong, vintage plumeria body wash and body lotion.  What a treat and all made on Maui. 

The Oneloa Bag:  The Large Wet/Dry Bag by Oneloa is a heavy duty plastic-lined, splash-proof bag. Perfect for keeping your stuff dry at beach or pool--and for stashing a wet swimsuit afterwards! One of our favorite uses is for traveling and we also love to store toiletries and cosmetics in these multi-purpose bags. Size is 9"x 11".  Oneloa is a small, family-owned company that makes its products here in Maui.
The Sarong: Also known as a pareo in the islands, the sarong is the perfect all-rounder:  dress, skirt, swimsuit cover, towel, picnic blanket, turban, you name it!  The pink and chocolate bird of paradise pareo is a stunning print, sure to become a favorite.  Easy to pack, Standard size, approx. 70"x45".  100% rayon.

The Vintage Plumeria Duo:  The Body Wash includes healthy botanical extracts--Papaya, Sea Kelp and Chamomile--to gently cleanse and refresh your skin.  Vintage Plumeria Lotion celebrates the golden era of Hawaii and the beautiful Plumeria flower.  Natural and organic ingredients combined with Plumeria will leave your skin moisturized and as fragrant as Hawaii's favorite tree flower.

The Fragrance: Plumeria is soft, sweet, fruity and floral.
The Story: Also known as Frangipane, Plumeria is the iconic lei flower of Hawaii…Island girls are known for plucking Plumeria blossoms straight off the tree and tucking them behind their ears...right for available, left for taken!
Ingredients Spotlight: Please see individual items for full product details.
Ingredients: This Vintage Collection includes 8.5oz Plumeria Body Lotion and 8.5oz Plumeria Body Wash. Please see individual items for full product details.