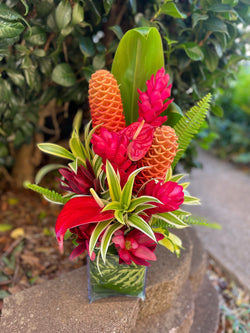 The Flowers:  Our Hawaiian Summer arrangement is filled with warm exotic tropical flowers that are flourishing during the summer, this assortment compliments each other to create a spectacular summer vibe.   Beat the Heat and Celebrate Summer with our Hawaiian Summer arrangement and bring Hawaii Home for the Summer.
The Florist:  Maui's Finest Flowers is a top florist here on Maui. Over the years, they have fallen in love with the power of how the colors, beauty, and the MAGIC of flowers can make people happy! Maui's Finest Flowers takes pride in their purpose of changing the world one flower at a time.
**Flowers are seasonal and it may require substitutions that are of equal value.

Your Message:  On checkout, look for the note section and leave a personalized message for the lucky recipient of these gorgeous flowers!
The Shipping: 
 SHIPPING INCLUDED - Customers must provide a physical address and phone number, as it will only be delivered by FedEx. Incorrect addresses will not be the fault of the florist.

Shipping:  Flowers ship out to the mainland on Monday and Tuesdays.  West Coast orders can be shipped as late as Wednesday.

* Since fresh flowers will be shipped, all sales are final.