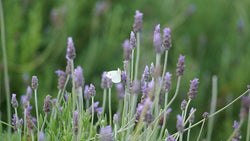 Lavender Vintage Premium Lotion--Last Chance
The Lotion: Vintage Lavender Premium Body Lotion celebrates the golden era of Hawaii and the calming scent of lavender. Natural and organic ingredients and locally sourced essential oils combined with Lavender will leave your skin soft, moisturized and relaxed.
The Fragrance: floral, herbaceous, fresh
The Story: Though it is a mystery as to how Lavender migrated to Hawaii, it has been a beloved plant to many on the islands.  It is recorded that Queen Liliuokalani had lavender in her gardens at her Washington Place home in Honolulu.  Washington Place-- a white mansion opposite Hawaii's State Capitol-- is the governor's residence today, but was one of the homes of Queen Liliuokalani, and is currently open to the public.
Ingredient Spotlight:
Organic Sesame Seed Oil--rich in antioxidants, easily absorbed, nourishes and promotes skin softness.
Papaya --nourishes and rejuvenates skin with Vitamin A and Papain enzymes
 Organic Jojoba-- similar to skin's natural sebum, healing and moisturizing without greasiness.
 Ingredients:  Island Essence Proprietary Emollient Concentrate, Organic Jojoba, Organic Sesame Seed Oil, Organic Avocado Oil, Macadamia Nut Oil, Kukui Nut Oil, Noni, Papaya, Organic Green Tea, Aloe Vera, Organic Lavender Extract, Fragrance Oil, Essential Oil