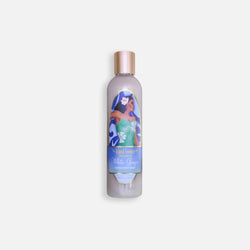 White Ginger Vintage Premium Body Wash
The Body Wash:  Vintage White Ginger Premium Body Wash celebrates the golden era of Hawaii and the exotic white ginger or "awapuhi" that grows wild in the islands. Natural ingredients and locally sourced essential oils combined with the sweet, exotic White Ginger or awapuhi will beautifully cleanse, moisturize and perfume the skin.  Very limited supply--last 2 in stock!

The Fragrance:  Fresh and clean with sweet, delicate, exotic floral notes.
The Story:  Hawaiian white ginger (Hedychium coronarium), or "awapuhi ke'oke'o" in Hawaiian, is a native plant of India and was exported in the 19th century to the Hawaiian Islands for its use as a fragrant garden and lei flower. It soon became naturalized throughout Hawaii and now grows wild.  The white ginger flower is symbolic of love and romance and the white ginger lei are sometimes referred to as evening lei because they are often strung in the evening to be worn that night.
Ingredient Spotlight:
Papaya nourishes and rejuvenates skin with Vitamin A and Papain enzymes
Ingredients:  Organic Aloe Vera, Island Essence Proprietary Emollient Concentrate, Extracts of Organic Sage, Organic Rosemary, Papaya, Chamomile and Sea Kelp, Jojoba Oil, Lavender Oil, Sunflower Oil, Vitamins A, B5, C & E, Fragrance Oil
* This product is phthalate-free.
Add a Gift Bag:  If you are gifting these, make your gift extra special purchasing a large Oneloa wet/dry bag--available in the Hawaiian Lifestyle Bags section for $25.  Let us know in the notes section on checkout, and we can include a handwritten gift tag for free.