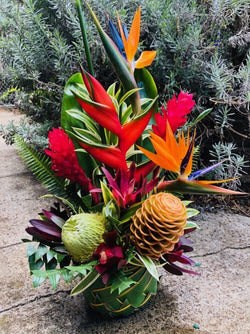 Aloha Basket--share the Aloha with Maui's Finest Flowers
The Flowers:  The Aloha Basket truly is the gift of Aloha. This beautiful hand-woven palm frond basket is made with love and can be kept for a lifetime. Adding unique and vibrant Hawaiian flowers will complete this tropical masterpiece from Maui. Treat yourself...or send some Aloha to someone you love today.
Flowers are seasonal.  On occasion, substitutions will be made.
Your Message:  On checkout, please leave a message for the lucky recipient of these beautiful flowers (look for the note box section).
The Florist:  Maui's Finest Flowers is a top florist here on Maui. Over the years, they have fallen in love with the power of how the colors, beauty, and the MAGIC of flowers can make people happy! Maui's Finest Flowers takes pride in their purpose of changing the world one flower at a time.
The Shipping:  Fedex shipping is included for all Maui's Finest Flowers arrangements.   Customers must provide a physical address and phone number, as it will only be delivered by FedEx. Incorrect addresses will not be the fault of the florist.
Flowers are shipped for 2 day delivery in the US.....Maui's Finest Flowers ships every Monday and Tuesday.  West Coast orders can be shipped as late as Wednesday.

Mother's Day 2023:  Please order Mother's Day flowers by May 8th.  Our local floral artist only has so much time and so many flowers to meet the demand for Mother's Day flowers.  So please get your orders in as early as possible--first come first serve.  There may be a time when she has to say no to new orders.

The Terms:   Since fresh flowers will be shipped, all sales are final.